The Hefty(R) oneZip(R) brand plastic bags are joining forces with major airports in the United States to ensure that airport passengers are on time and even hope to board the aircraft on time. Pactiv has announced that it is providing more than one million transparent 1 quart zipper sealed bags to passengers at major airports in the United States free of charge to help passengers pass security screenings. The company said it hopes the sealed bags will help passengers better comply with the newly enacted 3-1-1 Air Travel Hand Luggage Regulations of the US Transportation Security Administration (TSA). The 3-1-1 rule allows each passenger to carry no more than 3 oz of liquids or gels, but must be packed in a 1 quart size clear plastic zipper bag.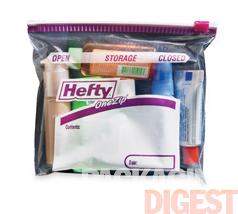 John Schwab, senior vice president and general manager of Hefty Consumer Products, said: "Many holiday travelers have already purchased Hefty oneZip sealed bags to carry their carry-on toiletries, but some passengers may not yet know 3-1- 1 Hand baggage management regulations. Our goal is to help passengers better comply with regulations by issuing such sealed bags for toiletries, so that they can pass other airport security checks smoothly."

Airports participating in this zipper bag project include: Atlanta Airport; Baltimore Airport; Chicago O`Hare Airport and Midway Airport; Cincinnati Airport; Columbus Airport; Denver Airports; Detroit Airport; Houston George Bush Airport; Las Vegas Airport; Los Angeles Airport; Memphis Airport; Miami Airport; Nashville Airport; New York LaGuardia Airport and JFK Airport; Phoenix Airport; Portland Airport; Raleigh-Durham Airport; Sacramento Airport; San Diego San Diego) Airport; Seattle Airport; Washington, DC Airport and more. The zipper of this plastic bag is simple and practical, so that the bag can be sealed in one step with a single pull, without squeezing or aligning the zipper.
Reprinted from: Packaging Expo

The cotton flat Mop is designed to handle all your wet and dry mop needs. It is ideal for big scale cleaning.It's cotton mop heads are made for maximum absorbency and cleaning power. With features of high water absorption,eco-friendly, cotton flat mops can be used on teak floor, marble floor, ceramic floor,suitable for home, hotel and public place. If you use your flat Cotton Mop for damp mopping it is 50% faster than traditional mopping and your floor will dry to a streak free finish in less than 4 minutes. This not only saves serious time and money but by flat cotton mopping you reduce the risk of accidents from wet floors.
Cotton Flat Mop,Floor Mop,Industrial Mop,Home Cleaning Mop
WENZHOU HAGO HOUSEHOLD GOODS CO., LTD. , http://www.wzhago.com